Chloe & Steph
SHE SAID YES!
(Thank God, or I wouldn' be writing this, right?!)
As I've said countless times before, the two things I love most about photography are the people you meet and the moments you get to freeze in time. This one ticked both those boxes, and what a moment it was. Tissues at the ready!
I'd been contacted by Steph through WhatsApp via referral in early January. She'd planned to propose to her girlfriend and wanted the moment captured. Steph doesn't use any form of social media, had no experience of how to go about booking a photographer or the costs involved. Nor had she ever heard of me or seen any of my work.
I was immediately excited at the prospect of shooting my first ever marriage proposal and the challenges and uncertainty that could come with it. I jumped at the chance to make a great first impression. After sending examples of my work and spending some time chatting on the phone, Steph quickly decided to recruit my services and we began scheming.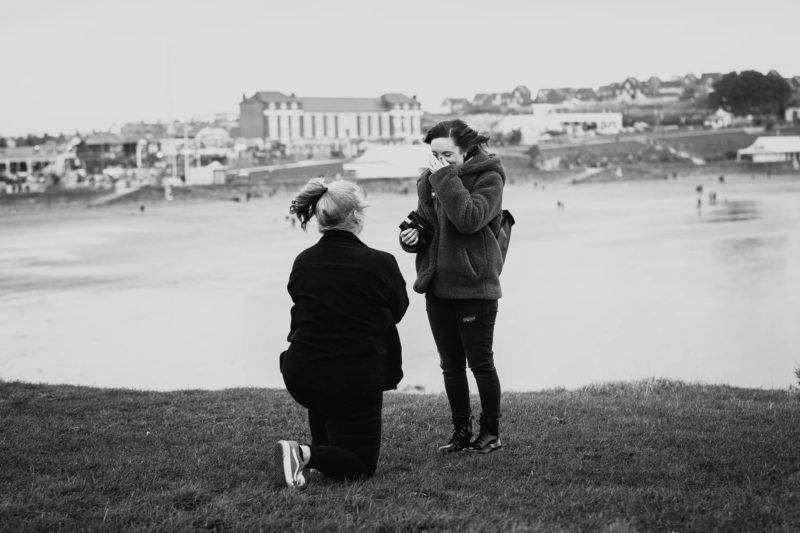 Her plan was to take her partner Chloe to a secluded spot on a cliff in Barry, the same spot as their first date. Their families would be stood across the bay holding up a giant sign which Chloe would need to read with the help of binoculars, only to turn around and find Steph down on one knee – ready to pop the big question. I'd be stood on the cliff posing as a tourist taking scenic shots of the bay, so as not to rouse suspicion, until the time came to swoop in and capture Chloe's reaction. Easy, right? No pressure.
Easy? No.
Pressure? Yes.
Room for error? Massive.
Exciting? Hell yeah!
Over the coming weeks we worked out a plan of action and I met with Steph on location so that we knew exactly what we were looking at in order to pull it all off. I guess the elephant in the room was the question: even if we managed to get everything to go to plan, would Chloe say 'yes' when the time came? In all credit to Steph, she never doubted for a second that Chloe would happily accept, and thank God for that or this story may have ended up going a completely different way!
All was set until the week leading up to the big day when I suddenly received a text from Steph saying that her and Chloe had both tested positive for COVID-19 and that the whole thing would have to be postponed until they were out of isolation. Bummer! We began trying to re-arrange things to the following week, assuming they'd both be testing negative by then (and feeling well) and we spent the week exchanging messages. Remember, all of this was in secret so I still don't know how she managed to not alert Chloe to what was coming. After a few set backs, we managed to reschedule.
When the day finally came and it was game time, I arrived in Barry half an hour before the couple were due to arrive to find the wind down on the coast was unreal (as you can tell by the hair in some of the shots below). I walked out onto the peninsula ready to man my station, took my phone out to check the time and WHOOSH! It was whipped clean out of my hand and blown onto the grass. I knew what was coming – there was absolutely no chance that the family waiting across the bay were going to be able to hold up a giant cardboard sign in those conditions. I spent the next 20 minutes huddled behind a bush (with no shortage of funny looks from passers by), as close as I dared.
They turned up right on cue, and I could immediately tell that Chloe was struggling to spot the sign and Steph was going to need to think on her feet. ADRENALINE! Nevermind how she was feeling, my stomach was doing somersaults! I rarely get nervous for shoots these days, but I really wanted to get this one right.
The second I saw her drop to one knee it was suddenly GO GO GO! I rushed over and began snapping Chloe's reaction. It was perfect! The confusion, the disbelief, the joy, the love and even the "Why is there a strange guy with a camera taking pictures of me?" – it was all there, and I managed to capture every moment. There's no better feeling than knowing you've got 'the shot' and you've done your job.

Of course she said yes! Never a doubt.
I can't thank Steph enough for taking a chance on me and I'm so pleased Chloe accepted. They both seem so happy together. Congratulations both, and thank you!

THIS is what photography is about.